Regular price
$55.00
Sale price
$55.00
Unit price
per
Sold out
Regular price
$55.00
Sale price
$55.00
Unit price
per
Sold out
Bustin R1
 Truck (set of two)

Design:
  RKP (Reverse Kingpin)

Hanger:
  177mm Width + 4mm Rake
Baseplate:
 51° Degree
Height:
  66mm (flat to axle center)
Bushings:

 
Five-O™ Trilogy (2 barrel 91a + 1 short 71a)
Kingpin: 
 Pressed Grade 8 Steel

Purpose:  Ultimate snowboard feel longboard truck designed for heavy lean carving, smooth freeriding and stable, efficient pushing.
View full details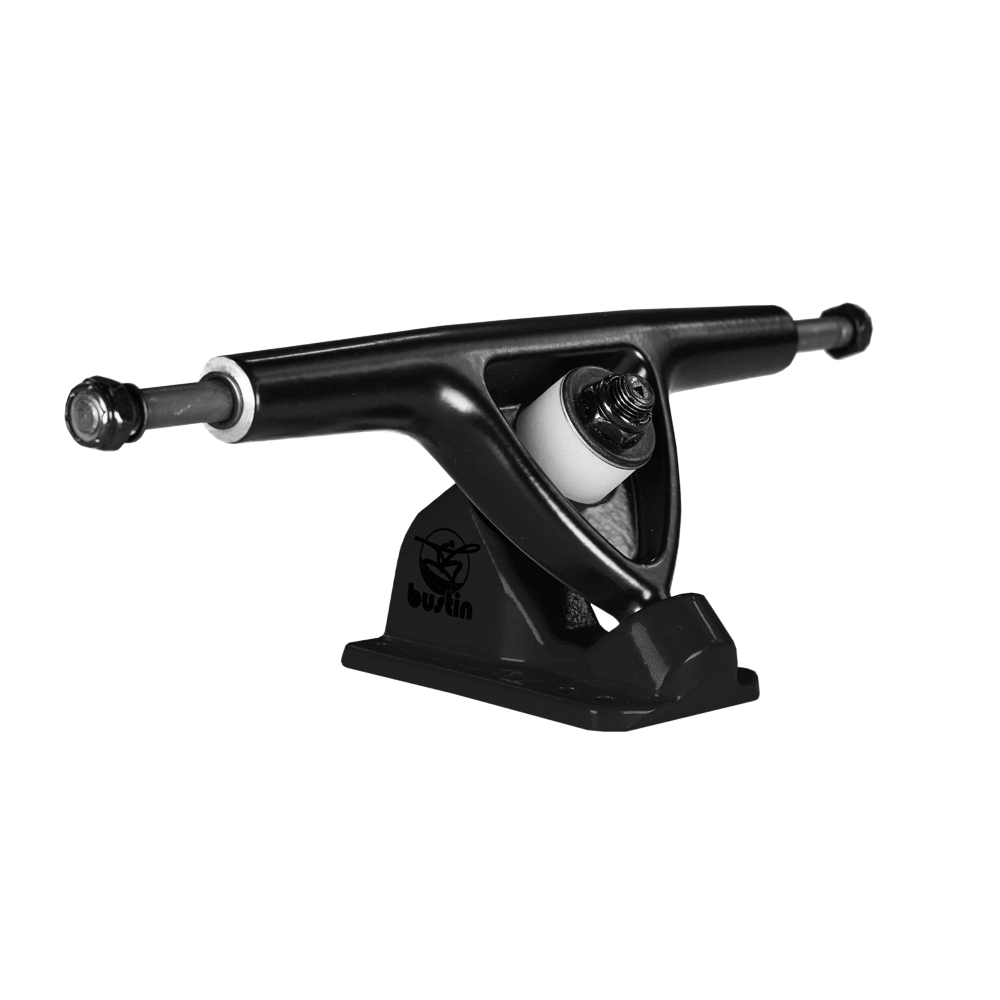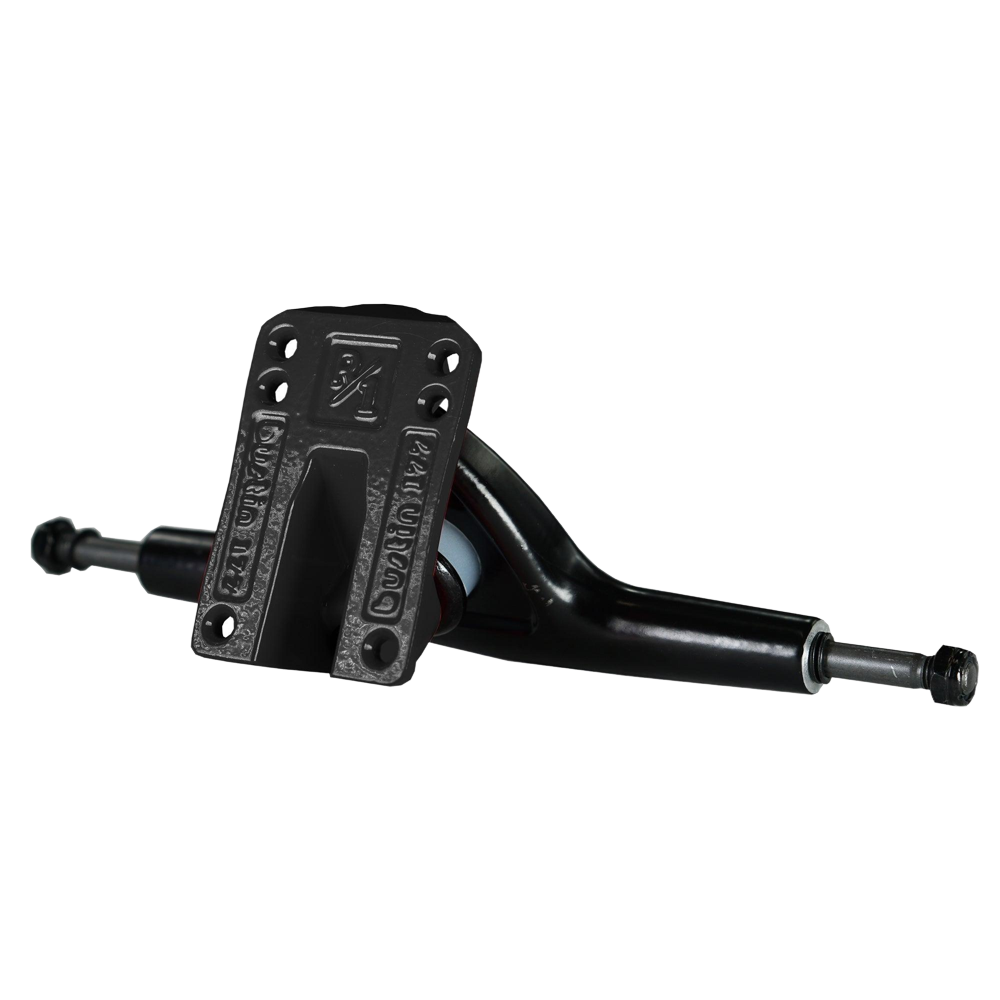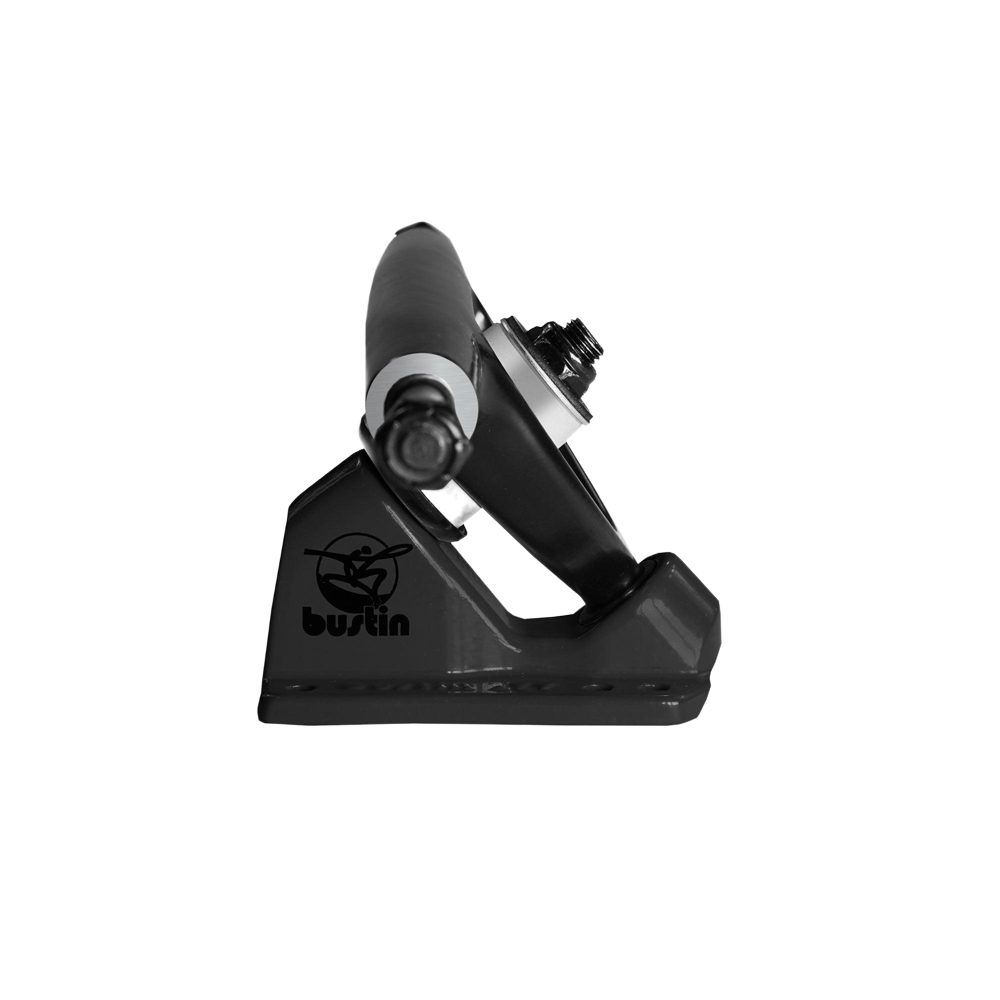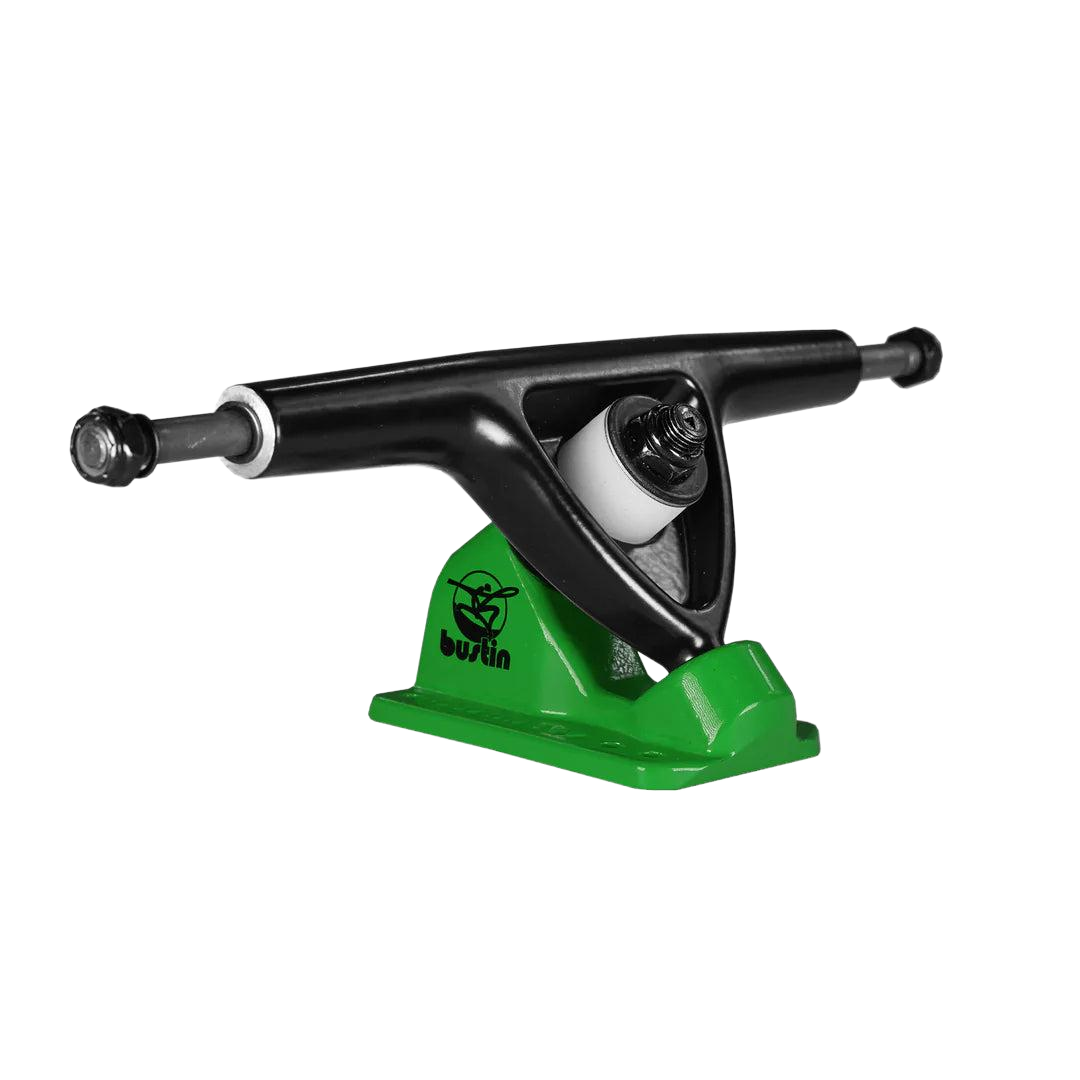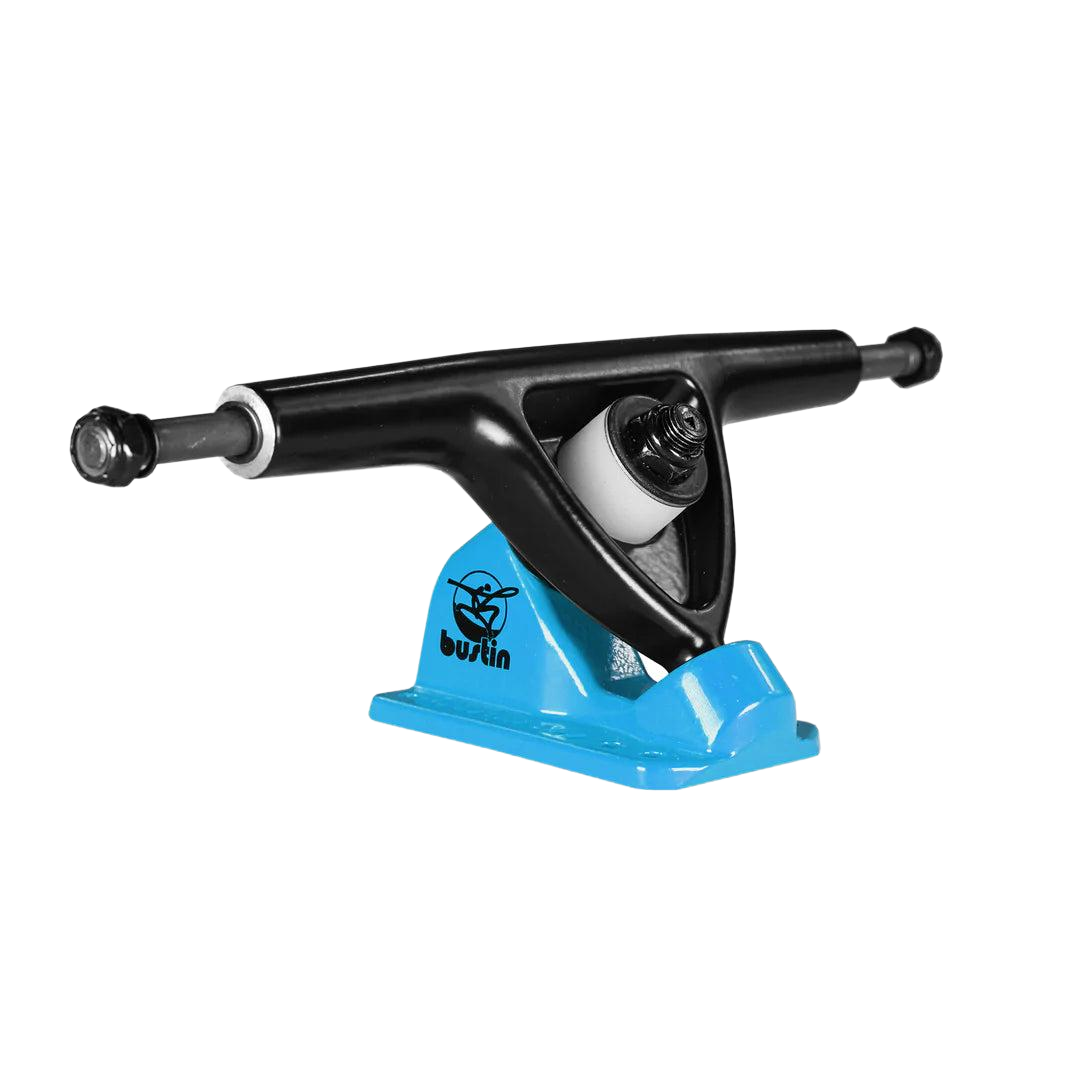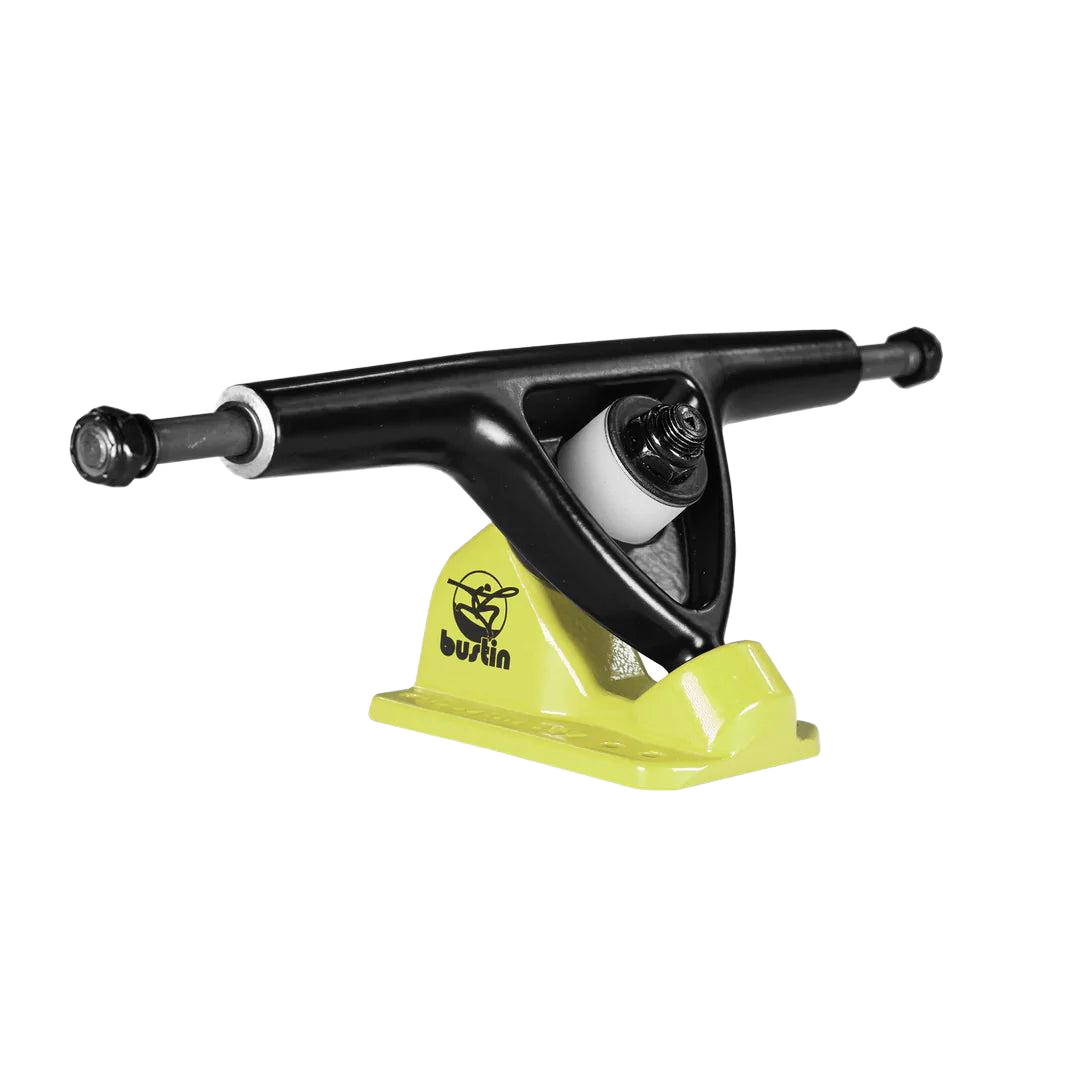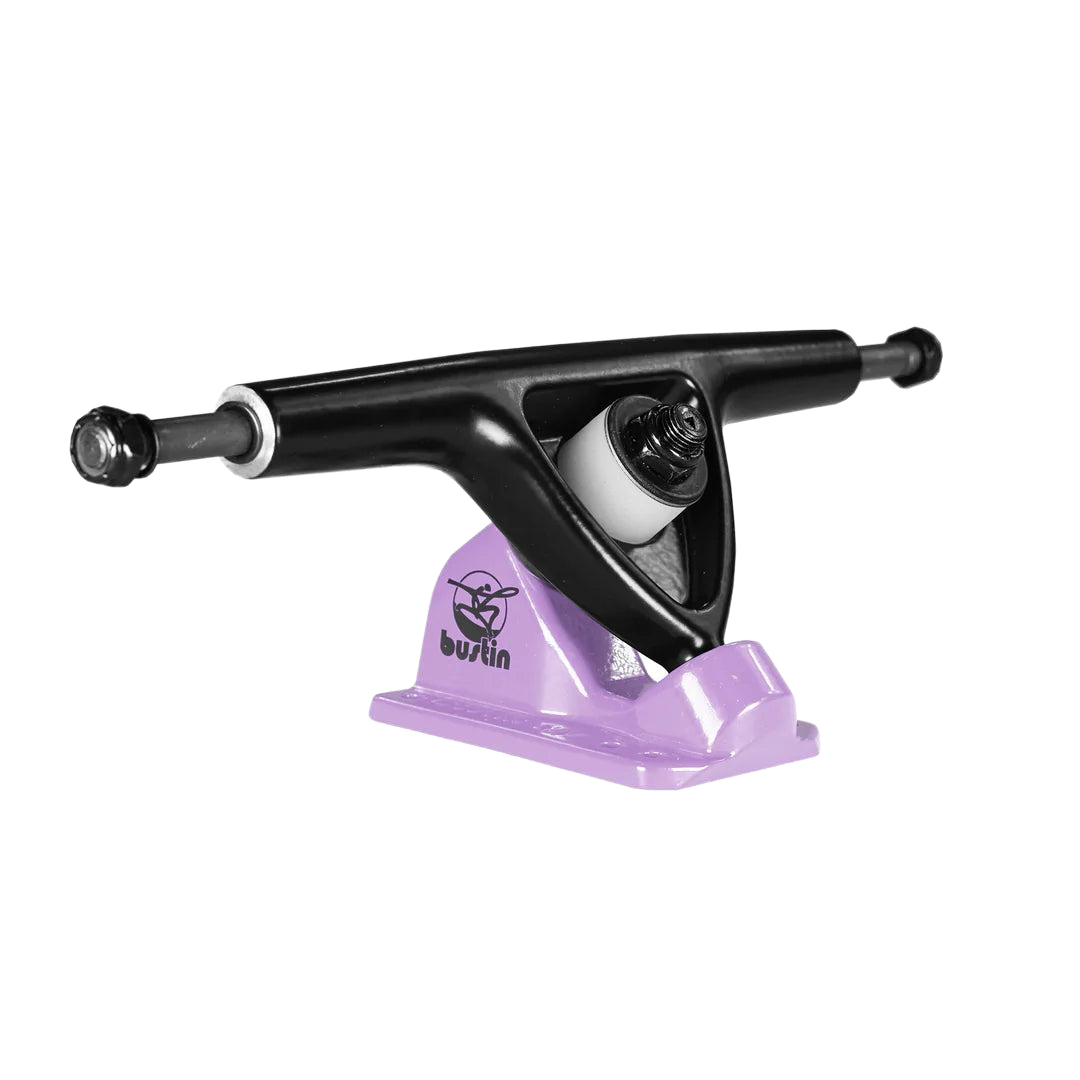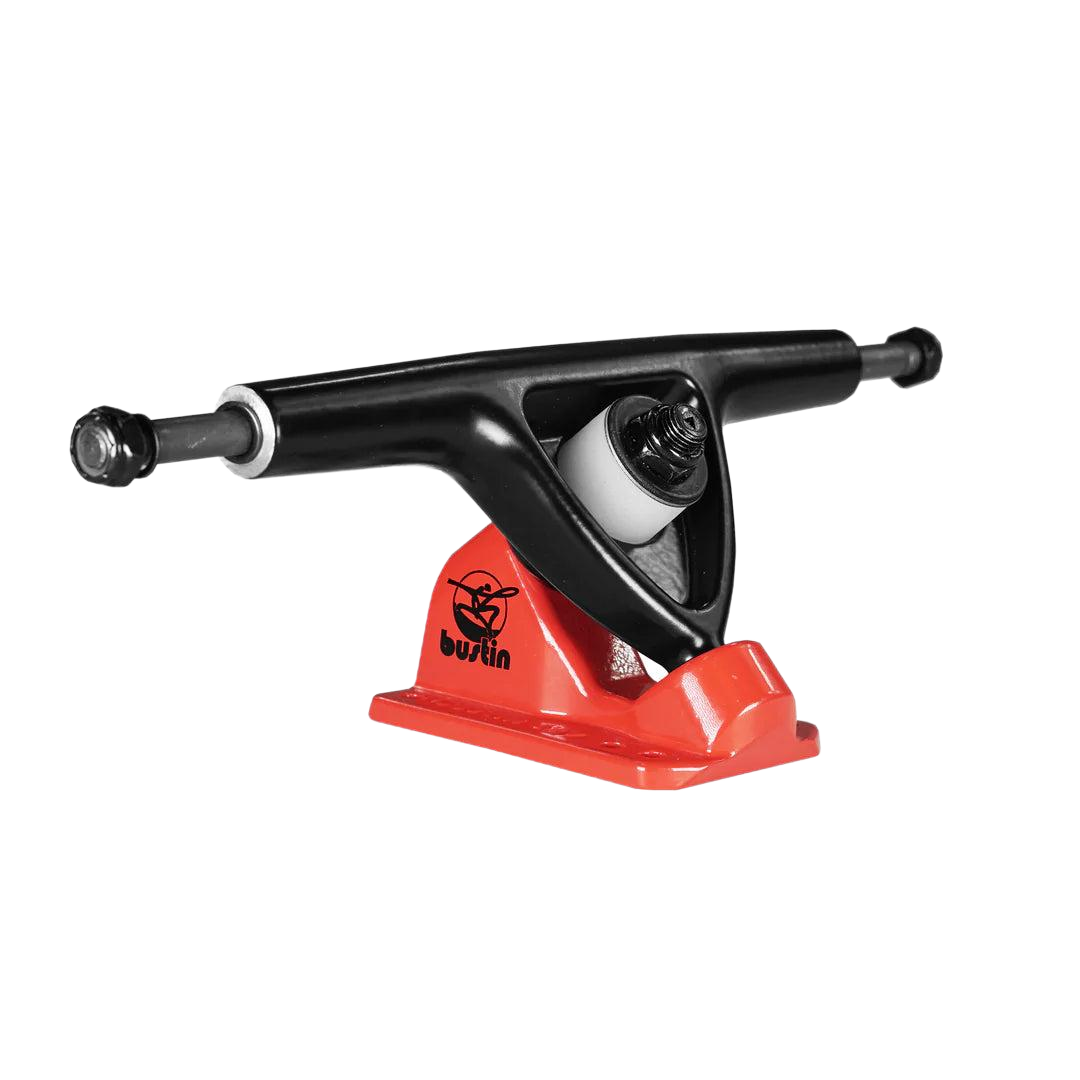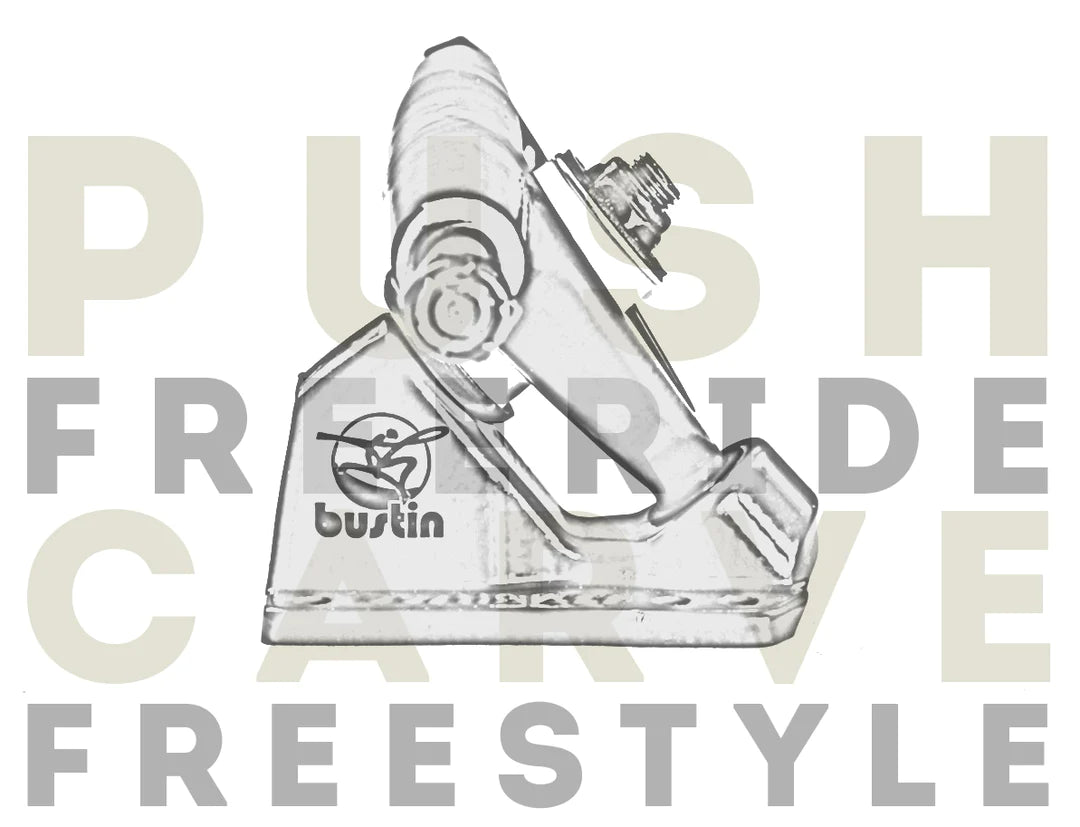 R1 history
We've always been different. In 2001 we debuted our "NYC Push Boards" designed for commuting across the city faster and more efficiently. Throughout the years since we've ridden and modified almost every truck and component combination to come on the market.
The new R1 design blends everything we've learned and everything we love into one super fun, super carvy and PUSH-centric truck.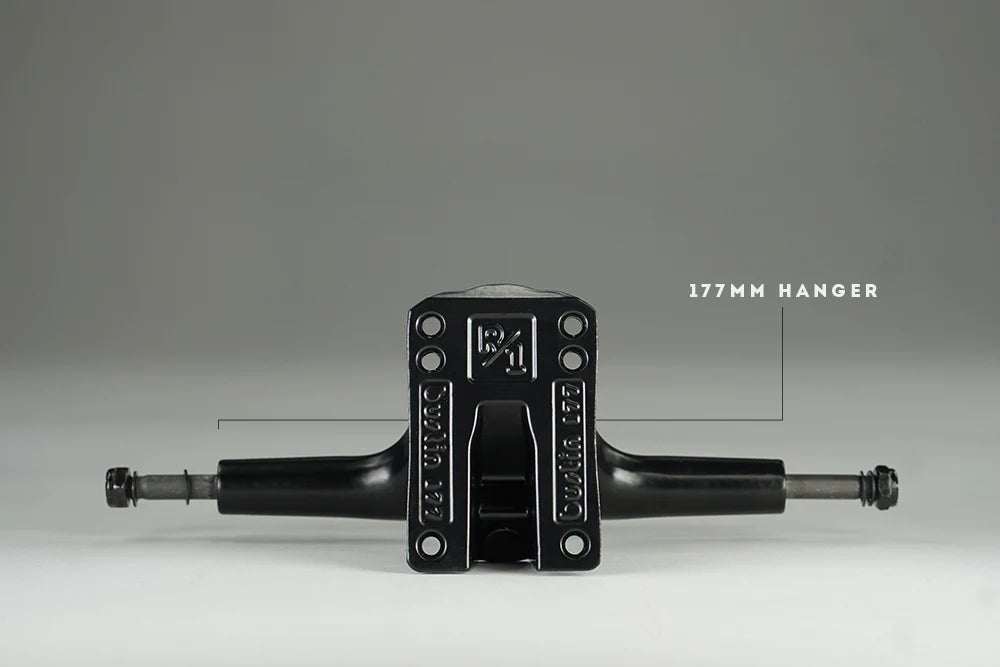 17 strong
Why 177mm?  We did a variety of tests on our boards and others and found that in most cases 180mm was wider than needed with the majority of wheels.  We determined that 177mm was the optimal width to avoid wheelbite on most setups.
For those of us with deep roots in the NYC push culture, a 3mm difference in our setup width can create a huge efficiency in how we push by tucking the wheels in and giving more flightpath to your push foot.  
Five-O Trilogy Bushings

The R1 comes standard with the brand new Five-O™ Trilogy Bushing Pack.  The unique setup features three bushings instead of two, including (2) high rebound Five-O™ 91A Clear Barrel Bushings and (1) softer 71A Black Short Bushing over the topside flat washer.  

Three bushings?

The triptych combo of bushings creates a smoother, silkier and more stable carving experience for any longboard or electric board.  The softer top bushing also absorbs road vibration to create a smoother ride on heavier boards like the Hybrid Electric. 
Snowboard feel

To achieve just the right carve/stability ratio we combined a 51° baseplate with a 4mm raked hanger. The result is a hard-leaning, ultra carvy truck that is surprisingly stable at higher speeds.

Minor details

The R1's details emanate from 20 years of designing and building shred machines. As an example, recessed truck holes mean you can now run flat-head OR round-head hardware with your drop-thru boards.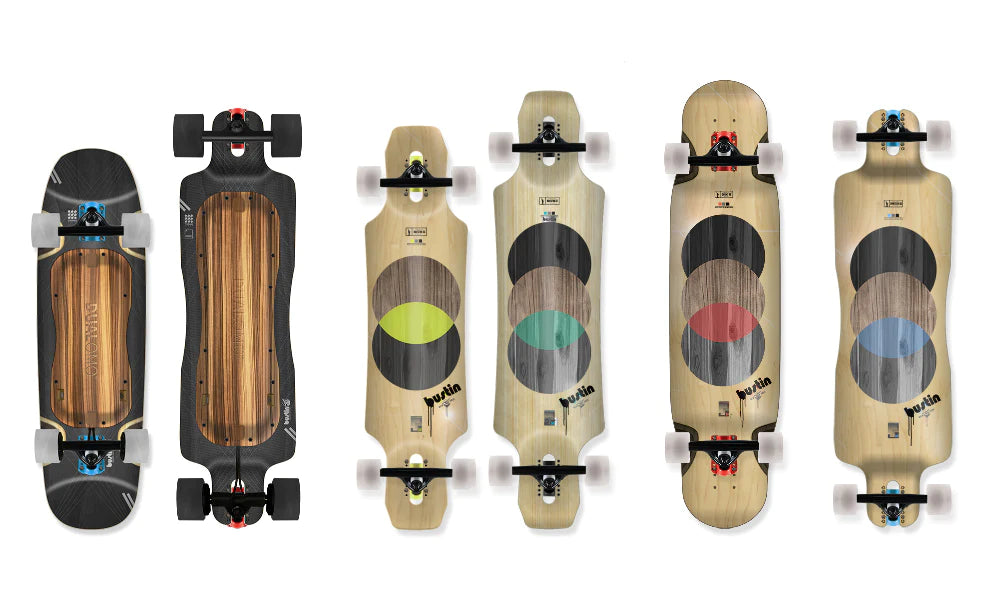 Compatibility
The R1 trucks work with most of our boards using 70mm wheels or smaller. Because of the 51° baseplate you can run larger wheels depending on their design and your bushing tightness.
As a reference these will fit 99% of the setups as 50° Paris, Bear or Gullwing trucks.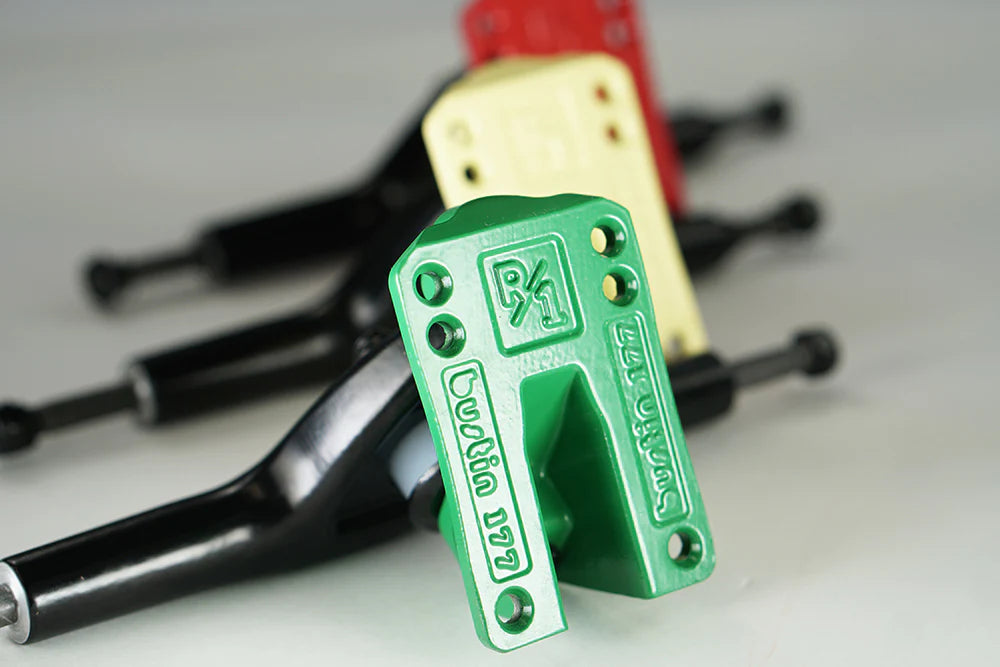 Bottom line
There are tons of trucks on the market designed by and for riders of a various disciplines and skill levels. For the R1 we focused on developing a fun, surfy freeride truck that optimizes hanger width to give a slight advantage to us pushers. The R1 is also great for dancers looking for silky, high-rebound setup. The R1 is not designed for downhill skateboarding over 45mph (unless you're Will Royce). 
In conclusion, the R1 is a super fun truck that carves like a snowboard and pushes like a mob. It is compatible with a variety of boards and rider disciplines and comes in six colors to fit your flavor. Let us know how you like em!
Customer Reviews
Write a Review
Ask a Question
love it, very best longboard ive ridden
04/21/2023
Edgar C.

United States
Magic?
What can I say? I was finding it extremely difficult learning how to slide on my Bustin Sportster with Gen 6 Bear 180's and P&P snakes. I replaced them with a pair of R1's and then the pre-carve kick out to heel-side check slide appeared out of nowhere! It was almost scary. I am left stupefied, but smiling every time I break out the Sportster now. Bless you!
Love for the 2nd pair of these rad trucks!
This is the 2nd pair of Bustin R1's that I have bought… Bustinboards makes the best skateboards and components, even some awesome clothing. I have been a very satisfied customer since 2017. Their skateboards are made in the USA and crafted by some of the best skaters I've ever seen.
Love the Maestro
Ride the Maestro on a six mile loop every day, stiff enough for my 195# , and carves nice and easy on the R1 trucks. Highest speed on the loop is only about 20MPH, handles every carve I need to make. The 70mm wheels roll through everything. Glad I got it.