Regular price
$149.00
Sale price
$149.00
Unit price
per
Sold out
Regular price
$149.00
Sale price
$149.00
Unit price
per
Sold out
Our big board for all your flat ground dance moves
Select Board Type:
Daenseu T-Core – Deck Only
Free US shipping

30-day returns

Handbuilt in USA
Product Details

Daenseu 42" Small-Batch
Availability:  Limited Release
Small-Batch Made: Yes (3-4 days to ship)
Finish:  Signed, Dated & Sealed
Grip: Engraved Logo + Laser Grip

Tech specs

Length

42.2"

Width

8.75"

Nose and Tail

4.2" - 5.8"

Concave

0.66"

Total Drop

--

Thickness

7/16"

Grip

Wood-Burn Logo + Laser Grip

Trucks

Bustin R1™ 177mm

Wheels

Premier Formula™ 70mm 80a
Shipping & Returns

We have a production lead-time of 3-5 days. Made and shipped from our local factory at Maryland. If you are not satisfied with your product, we offer a 30-day return policy on unused products (the skateboard must be unridden and in brand-new condition)
Warranty

Bustin Boards stands behind each and every one of our products, and we offer an extended warranty in each of our top quality components.

Standard Maple Boards: 90 days

Wheels: 180 days
Bearings: 180 days
Trucks: 180 days
View full details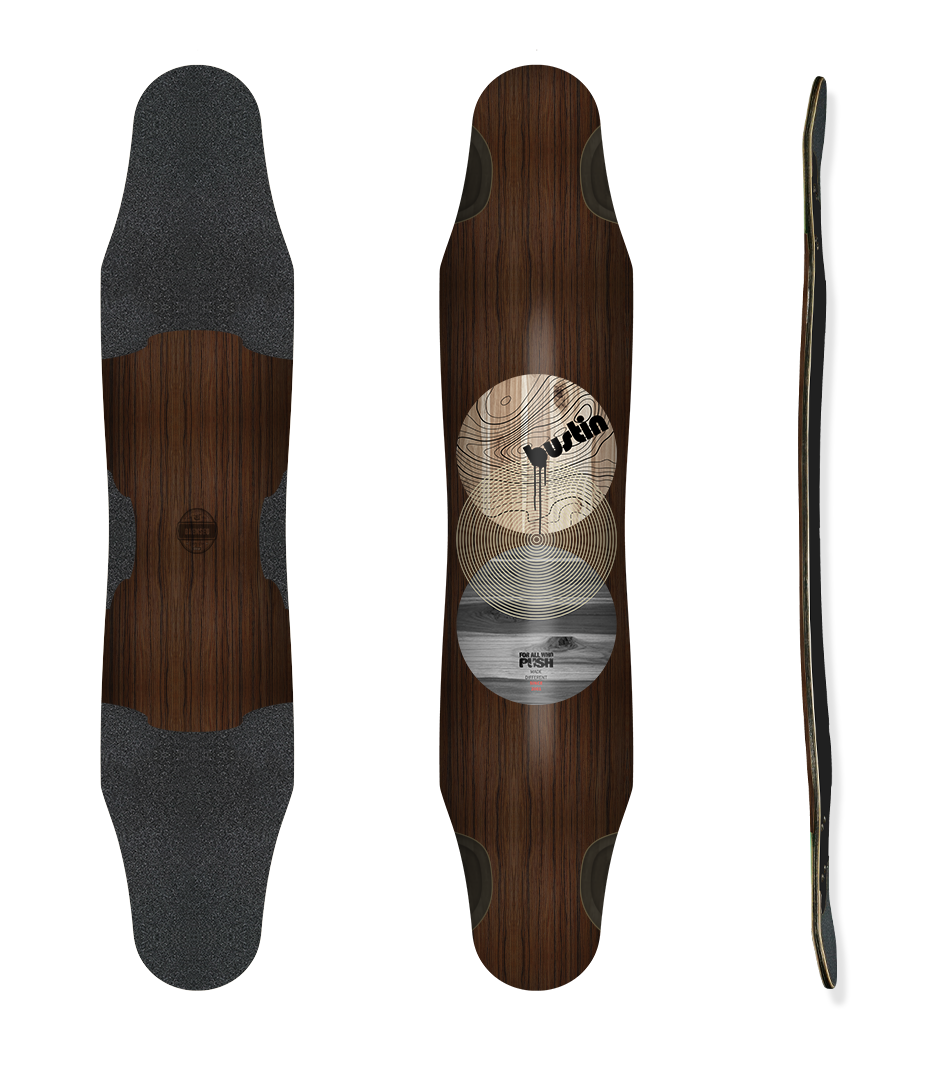 Daenseu Performance
In 2012 we designed the first Sportster to be a lean, mean pushing machine with a singular focus on commuting faster and more efficiently. The latest version holds true to that purpose, while adding new potential for big, effortless slides and mild downhill.
Push

Freestyle

Carve

Park

Slide

Downhill
Unprecedented durability
Our latest iteration generates 2X more power-per-push than previous editions. It blends together three woods – teak, maple, and bamboo – for a ride that feels like snowboarding through the city.
Built by hand in the USA
Since 2001 we've been hand-crafting skateboards in the USA. Our Hybrid-Electric boards are hand crafted, wired, programmed and assembled by our Maryland-based production team. Ask any other electric brand where they make their boards.... but you already know.
Lighter + stronger

With our new (T)Core™ construction, the latest Daenseu deck is nearly half the weight of some previous editions. This means a higher-flying, swifter-pushing magic-carpet for wherever your adventures take place.

Push friendly

In keeping with it's Bustin DNA, we've improved the push capability of the Daenseu with weight reducing (E)Core™ construction and new push-flex camber within a subtle micro-drop and rockered platform.

42 inches small

Despite its larger overall span, the new Daenseu will surprise you with its agility through tight paths and more traditional skate tricks. An (T)Core™ layup that virtually dances on it's own plus larger, more pronounced kicktails and an ultra comfortable 28.8" to 31.7" wheelbase.
Not sure what the right board for your riding style is?
Customer Reviews
Write a Review
Ask a Question
Worth the money
not going to take forever writing this, but feels good turning is immaculate and you can take tight ones, looks gorgeous with the wood for sure. Feels easy to ride and I love it.
My first board 5 years later
My first ever board was a 2017 42 Old NY Daenseu bamboo X which would also become my first dance/freestyle board. Ever since I had to retire it, I had repeatedly reached out to Bustin regarding the daenseu and its chances of reissue. A few months later, coincidentally on my 1st anniversary of longboard dancing, the 2022 Bustin daenseu was revealed, and I was fortunate enough to obtain one early before listing and got a sweet custom graphic on par with the old NY. This board is feels much narrower than it's previous editions (at least the bambooX) which requires a bit more overall dance precision particularly with cross steps and peter pans, which may be slightly harder for beginners. However, I've noticed that Tigerclaw and shuvit based tricks felt so much more springy and responsive. Popping with the bamboo X was a bit heavy and a bit clunky, but with the reduced width size and changed kicktails of 2022, this board feels great and agile for freestyle. I'm not sure if its also because of the decreased width, but carving and turning on this feels much better as well. One thing I didn't know I missed from bustin boards was their rails design, and overall durability. In a quiver consisting of loaded, crown, and landyachtz boards, the daenseu quickly replaced and became my main/go-to board. Honestly, I'm thinking of buying 1 or 2 more as I will inevitably destroy my current one learning stuff, and to ensure I have enough daenseu once this limited release is over or until Bustin creates their next dancer. Till then, I hope to get good enough to make a profound impact on the longboarding community with this board.